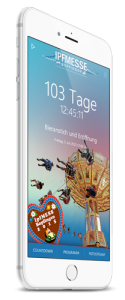 One of my first projects in my new job was building an app for the iPhone. The app has been done for Bopfingen city, for their folk festival called Ipfmess'.
First idea was a simple counter app where people can easily observe the remaining time until the big event and browse the program of the folk festival on the phone.
But soon there were other ideas like including an instagram stream (hashtag #ipfmess) or adding an info tab with information on up-to-date news about the "Ipfmess" and events related to Bopfingen and the festival.
The project grew, the layout was updated several times and so it took longer than expected until the iPhone app reached the AppStore. An online survey revealed that people wanted the Android-App to be released before the iPhone version. The last one was then unfortunately released about one week later than planned because we waited for the app to be approved by AppleStore. So the app's release for iPhone was nearly two weeks after the Android version. But finally the app now can be installed!
And of course it is free of charge, it was a fun project for Veroo Consulting (and for me), a project we didn't do for profit but for the fun to do it – and that's what it was! I hope you will also enjoy it. And who knows, maybe we'll meet at the Ipfmess. 🙂
There will probably be some updates, soon, as we have even more ideas – so check out the news on the official homepage.
Here are some links related to the app: