While hiking in the "Kemptener Wald" (Cambodunum Forest) in May 2015, we came upon a strange riddle. There was a tombstone with engravings on all four sides, written in gothic letters. There was a word looking like "Dekonomensgattin" and another one that seemed to say "Dekonomsgattin". As you later see, this can't be translated, but I'll try it nevertheless: "wife of deconomist". Strange word, we thought. Neither my wife nor I had heard of this word, so at home we started searching for it in the world wide web. We had some hits on the search machines. All of them led us to old books and to chronicles of died persons. But we did not find, what the heck this meant. Finally the enlightenment came over us: While we examined the fotos and some of the links more closely, we identified the upper case D to be an upper case O instead. The strongly decorated upper case letters of the gothic font had deluded us. They even had deluded the OCR (optical character recognition) software of the search engines.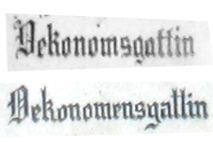 Now look at your own: Would you have identified this without any references? In one of the scanned books we found with the search engine, we had managed to find words with upper case Ds and Os, so we were able to compare and differentiate them.
So, finally our word "Dekonom" became the word "Oekonom" (economist) – and that's a word we all know…
Lessons learnt? Only because you get some hits when searching the web for something doesn't mean the information is not faulty.
More lessons learnt? Typography can be difficult. As a designer you should always be aware that using wrong typefaces or fonts can result in generating text that can hardly be read – not only for human beings.