Some years ago we and some of our friends decided to hike along the Way of St. James in stages. It was not our goal to go on a pilgrimage to Santiago de Compostela, we simply like hiking. Now, such a thing as "the" Way of St. James doesn't actually exist. If someone wanted to see the grave of St. James in the Middle Ages, he began his journey at the door of his home and ended near Santiago de Compostela. Today, a european nomenclature denotes only the last section (Puente la Reina to Santiago) in the north of Spain as Way of St. James, all others are now called "Ways of the pilgrims of St. James". That said we took one "way of the pingrims of St. James" – even only a short part of it, between Christgarten and Neresheim. A really lovely church (St. Sola Church) can be found in Kösingen. The priest even showed us the rooms behind the altar, the sacristy, which at that time was not accessible for the public. On 08/21/2013 they had an article in the local press called SchwäPo. Unfortunately the article is only available for subscribers.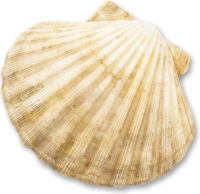 When hiking in europe, you can often find a stylized scallop by the side of the road. The icon (often in conjunction with a yellow arrow showing the direction) blazes the right trail. But why the scallop? Each pilgrim finishing his pilgrimage, was handed out such a sea shell. He pinned it onto his pilgrim's hat, his pilgrim's bag or his pilgrim's pole. It acted as identification tag, so pilgrims and non-pilgrims knew, who took the cumbersome way to the grave of St. James.
Numerous statues and paintings of the Middle Ages [1] [2] [3] [4] [5] [6] [7] show St. James and pilgrims with wide-brimmed hats with these shells pinned onto. These hats were typically felted like nearly every medieval hat. The material (water, stale urine and sheeps' wool) was cheap, there were no other resources needed for the production (contrary to other handcrafts) and even better the result was water proof and nearly fire proof.
In 2005, when my wife discovered felting, the most interesting felting objects were hats of the Middle Ages. It wasn't a long time coming until she felted her first pilgrim's hat. In the meantime she has created several handfelted pilgrim's hats. I am really looking forward to see the film "Die Pilgerin" (The Female Pilgrim), where some of her hats will be seen. The film is currently in production. Here are some selected photos of her hats. Anyone who wants to go on a pilgrimage himself/herself and needs a pilgrim's equipment, may find a handfelted hat to buy on her felting homepage Zauberreigen (magic round dance).