Finally! The book "Baby- und Kinderpflege – natürlich selbstgemacht" (Baby and Child Care – natural homemade), written by my wife, was published by Freya. The book includes many basics, numerous recipes, all vegetarian, many of them even vegan, for self-stirring. In composing your own cosmetics, they are without artificial sweeteners, preservatives and allergenic perfume oils. The basic ingredients are vegetable oils and floral waters.
After we had published two ring binder books called "Naturseifen einfach selbstgemacht" (Soaps easily homemade)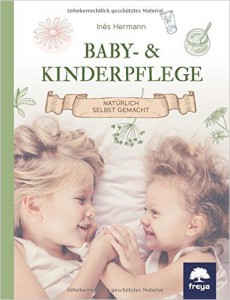 and "Hausgemachte Naturkosmetik" (Homemade natural cosmetics) in our own publishing house (Waldfaun), but sell it only on the website, we are now proud that the new book is also sold in bookstores.
My wife teaches adults how to make soap and how to mix cosmetics in adult education courses. Parallel to these courses she wrote the former mentioned two recipe collections. Last year, Inés deepened into mixing of cosmetics especially for children and babies, as she had numerous requests how to do that. Children have more sensitive skin than adults.

Together we draped the mixed ointments, creams and lotions, as well as the ingredients, thus many of the photos in the book were contributed by us.
The book is also available on Amazon: http://www.amazon.de/dp/3990252518
Enjoy reading and mixing, all you mothers and fathers, and also all you grandparents, aunts and uncles.